Rev. Dr. Sean C. Evans, Sr.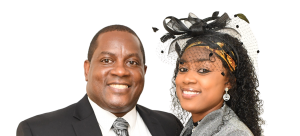 Rev. Dr. Sean C. Evans, Sr. believes that "Every good gift and every perfect gift is from above…" James 1:17 and that "…(God) is a rewarder of them that diligently seek him." Heb. 11:6. God has indeed given many good and perfect gifts: A lovely and devoted wife, Amoy Evans; two handsome sons, Sean Jr. (2015), Sean III (2018); a faith-filled father, Rev. Alvin Evans, M.D. (FL); a prayer warrior mother, Navleth D. Evans, RN, BSC. (NJ); and the Second Baptist Church family!!!
He has served as an elected member of the Irvington School Board (2011-2013), Chaplain of Irvington Fire and Police (2014), Director of the New Hope Missionary Baptist Association's Leadership Institute (2015-2019), Commissioner of Irvington Housing Authority (2015-2020). He currently serves as Councilperson for Irvington's East Ward, General Secretary of the New Hope Missionary Baptist Association, and Principal of the Berkeley Terrace Elementary School (Irvington, NJ). He earned a Bachelor of Science in Political Science/History (Excelsior College), Master of Arts in Educational Administration and Supervision (St. Peter's University), Certificate in Christian Ministry (New York Theological Seminary), and an honorary Doctor of Divinity degree (Virginia University of Lynchburg). In May 2021, He will graduate with a Doctor of Education in Administration from St. Elizabeth University Morristown, NJ.
In 1992 at the age of 15, he started to preach.  From 1996-2003, he served as Youth Pastor and Director of Christian Education at the 1st Mount Zion Baptist Church of Newark (Rev. Dr. L. Ronald Durham, Pastor).  Following the Lord's leadership in 2003, he joined Clear View Baptist Church of Newark (Rev. Eric M. Beckham, Pastor). From January 2005 to October 2020, he served as the pastor of the New Light Missionary Baptist Church of Newark.  During that time, he led the church to form a CDC, introduced child, and senior daycare programs, engaged in many facility projects, and the Lord blessed. "Behold, I will do a new thing; now it shall spring forth…" Isaiah 43:19.  Pastor Evans gladly accepts God's call to serve as Pastor of the Second Baptist Church of Paterson, NJ. Together we stand in anticipation of what God will do!